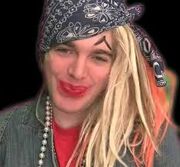 Shananay
is a fictional character portrayed by Shane Dawson. 

She is rude, sexist, ghetto, and loves to kill people that she despises. 
Early/Personal Life, Personality & Jobs
Edit
When she was eight, her first kill was "the pizza guy". In High School, she used to be bullied by a Obsese Jamaican girl "Janga". Her father was assumingly abusive and rude, calling Shananay "fat", in anger she kills her father with her gun, The status of her biological Mother is unknown, it was shown that she grew up with an Abusive, Ghetto Jamaican Foster mother who did not care about her safety. In other videos, she is seen very good at heart and emotional, and as well caring, humorous and giving. 
Her friends are Blacka$hit, and Shane.  
Like explained, Shananay is rude, ghetto, sadic, partly schizophrenic, and loves to shoot people with a gun she usually hides in her purse, in her pocket or in her  "vagina" . Although in the video "Who's the killer" Shane assumes that she carries a gun everywhere, and denies that she doesn't carry it, she has the gun implanted in her neck. 
Shananay has had multiple jobs, such as waitress, Christmas gift wrapper, auditioned for actress, Talk show Host, 911 operator,  "McDonalds "  and at the Department of Motor Vehicles.
Relationships
Edit
Shananay has been in a lot of relationships with men & women, she's currently dating Shane, and already met his family and they're probably getting married. 
Shane and Shananay both met during a blind date at a unknown restaraunt.
Appearances 
Edit
Throughout the years 2009 and 2010, Shananay has been used in most of Shane's videos and is seen as Shane's most violent character other than her deceased sister. 
Beefs (contentions)
Edit
Aunt Hilda Edit
In 2010, she started a relationship with Shane Dawson, Shane thought was a necessary to introduce Shananay to his "disfunctional" family, Upon meeting his Mom and his brother his who is going through Major Depression Disorder, she meets his Aunt, Hilda Goldstein who stuffed her deceased husband Bob Goldstein, which disturbed Shananay, and while Shane's Mom, drags her son, which left Shananay enraged. 
Shane's MomEdit
Shananay went into big contention with Shane's mom, upon her being overly rude and "self-centered" to Shane's brother who is in Depression, and tells her younger son to run away without even caring. Also leaving Shananay in hatred upon Shane's family members (excluding his brother).